Carl Vinson Carrier Strike Group and Air Wing of the Future Operate in South China Sea
By Lt. John Lobkowicz Carl Vinson Carrier Strike Group SOUTH CHINA SEA —
Carl Vinson Carrier Strike Group (VINCSG) and their embarked Air Wing of the Future, Carrier Air Wing (CVW) 2, are operating in the South China Sea in order to uphold the free and open use of Indo-Pacific waters in support of security and stability in the region.
This marks the first time that a carrier strike group is operating in the South China Sea with the advanced capabilities of the F-35C Lightning II and Navy CMV-22B Osprey.
"When we deployed, we brought with us the unprecedented stealth, electronic warfare and vertical lift capabilities of the Air Wing of the Future and these platforms have delivered," said Rear Adm. Dan Martin, commander, VINCSG.
Independence-variant littoral combat ship USS Tulsa (LCS 16) joined Carl Vinson Carrier Strike Group (VINCSG) during presence operations in the South China Sea.
The integration marks the first time an LCS has operated as part of a carrier strike group in the U.S. 7th Fleet area of responsibility.
Under the tactical control of Destroyer Squadron (DESRON) 1, Tulsa provided direct support to USS Carl Vinson (CVN 70).
"Although LCS have previously trained with aircraft carrier strike groups, the LCS has less frequently sailed alongside aircraft carriers in the operational environment," said Rear Adm. Dan Martin, commander, VINCSG. "This collaboration in the 7th Fleet demonstrates how effectively an LCS can meet dynamic force employment in the region and how quickly and seamlessly a carrier strike group can integrate an LCS into our operations. This inherent mobility of our maritime forces to conduct dynamic and unpredictable operations in the region reinforces the message that our U.S. forces will fly, sail and operate wherever international law allows."
Outfitted with the long-range, precision strike Naval Strike Missile (NSM), mine countermeasure capabilities, high speed and a shallow draft, Tulsa can move quickly without being tied to a specific area or defensive tasking, providing a unique tactical flexibility to the carrier strike group.
"What we saw during operations with Tulsa is that the speed and maneuverability of the LCS, along with the extended range their Naval Strike Missiles affords, enables us to forge new ways to operate as a carrier strike group in the region," said Capt. Gilbert Clark, commander, DESRON 1. "We validated technologies and explored new ways to operate with the LCS – looking at techniques and procedures to further assure our ability to effectively fight, win, and deter potential adversaries, to include integrating and increasing our maritime lethality when conducting distributed maritime operations with LCS."
Tulsa provided surface and subsurface protection for the aircraft carrier and integrated with other VINCSG ships and aircraft in conducting simulated long range maritime strikes utilizing NSM. Additionally, the embarked MH-60S helicopter provided support to establish and maintain the recognized maritime picture, marking the first time Tulsa used non-organic air assets to find, fix and track long range surface contacts.
The strike group is providing fleet commanders the ability to project power in new and powerful ways. The Air Wing of the Future uses advanced and layered effects. With integrated passive and active sensors, it provides battlespace awareness for strike groups and fleet commanders.
"Safeguarding a free and open Indo-Pacific means understanding the space, electromagnetic, and information environment along this vital international maritime highway," said Capt. Tony Butera, VINCSG's information warfare commander. "The operations we conducted recently enhanced our multi-domain understanding of this historic area, ensuring the information warfare teams onboard our ships can better support the carrier strike group's overall goals of maintaining security, promoting stability, and preventing conflict."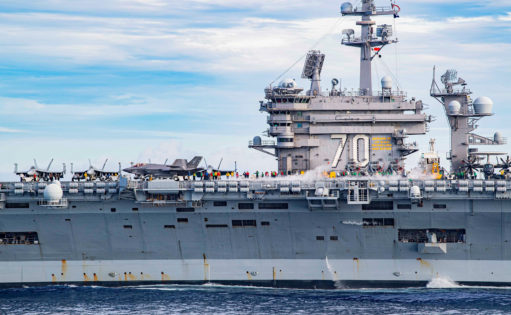 Prior to entering the South China Sea, VINCSG and CVW-2 conducted joint interoperability flights with U.K. Carrier Strike Group (CSG) 21 and participated in Large Scale Exercise 2021.
"We are now seeing the results of years of programming, planning, and training. Our enhanced multi-spectral maneuverability is a glimpse of what the future of Naval Aviation will bring to the fight," said Capt. Tommy Locke, commander, CVW-2. "And, it's not just about technology. Our maintainers and operators have the most experience taking our advanced Air Wing to sea. With their resilience, innovation, and determination, nothing will stop us. Our sailors, officers, and partners are our competitive advantage."
VINCSG provides a combat-ready force to protect and defends the collective maritime interests of the U.S. and its regional allies and partners. Collectively, the VINCSG consists of more than 7,000 Sailors, capable of carrying out a wide variety of missions around the globe.