PUTIN LIED ABOUT PULLBACK!
By SOF Editor on Wed, 05/14/2014 - 1:30pm
Printer Friendly Version
Send to a Friend
Satellite Imagery Busts Russian President
By Harold Hutchison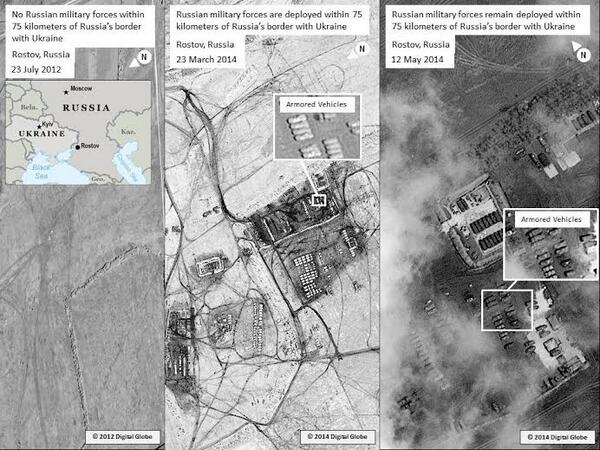 Vladimir Putin's claim to have pulled back Russian troops from the Ukrainian border was a lie. The proof emerged after the United States Mission to NATO released satellite photos.
According to a report by Breitbart News, the released photos show that contrary to claims by Putin made before referendums held on Mother's Day in two oblasts of Ukraine that were controlled by pro-Russian militias, Russian forces are still poised near the border shared by the two countries.
One of the satellite photos shows unidentified armored vehicles within 47 miles of the Ukrainian border near Rostov, Russia. The other photo shows helicopters near Belgorad, Russia, about 45 miles from the Ukrainian city of Kharkiv (Kharkov).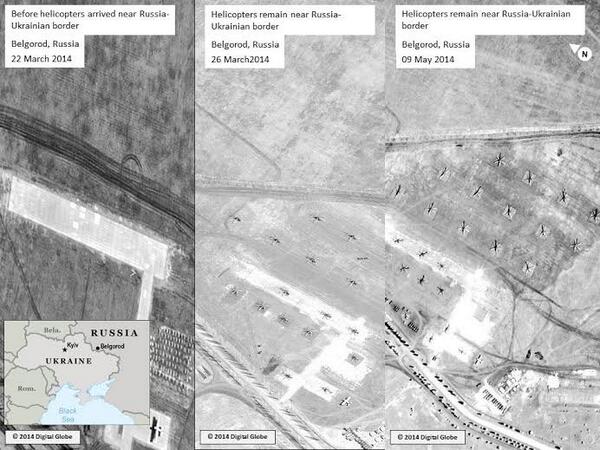 One NATO spokesperson, Colonel Martin Downie, told Reuters, "The reality is that Russia continues to have 40,000 high readiness troops massed on Ukraine's border and another 25,000 troops in Crimea. The units on the latest satellite pictures show mechanized infantry, armored vehicles and combat helicopters."
Downie went on to explain, "These units are there to intimidate Ukraine's government and they could be used for an invasion of Ukraine, if ordered by Moscow."
The crisis in the Ukraine began when then-President Viktor Yanukovych refused to sign a trade deal with the European Union, and instead cut a deal with Putin. Weeks of protests that turned violent forced Yanukovych to resign and flee to Russia. Since Yanukovych fled, Russia has seized Crimea as well as a number of Ukrainian ships.